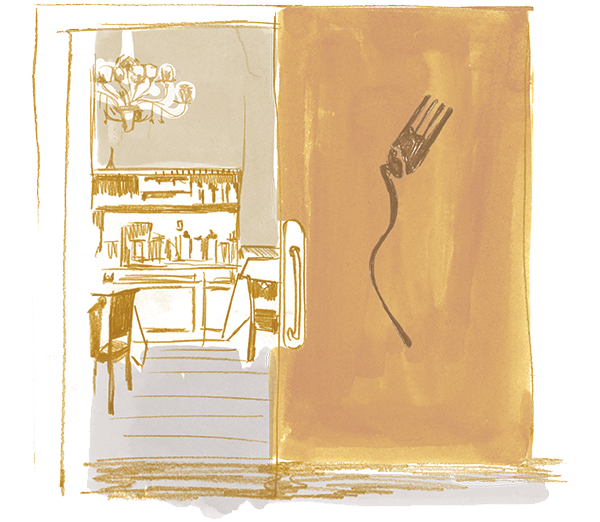 The Vetri Cucina Story
Vetri Cucina has the longstanding reputation as being one of the most respected and influential Italian restaurants in the country.
After years of working in the finest kitchens in Italy and the U.S., Chef Marc Vetri returned home to his native Philadelphia and took up residence in the intimate, historic townhouse that was once home to the lauded Le Bec-Fin. Together with his business partner, Jeff Benjamin, they opened Vetri Cucina's doors in September of 1998.
Over the past two decades the restaurant has continued to offer outstanding rustic fare, handcrafted pastas, innovative flavor combinations and artful presentations inspired by Italian cuisine. Throughout this time, Marc and Jeff have been honored to give back to the city through their work with the Vetri Community Partnership.
James Beard Foundation Awards
Vetri Cucina is honored to be included among our talented colleagues as a nominee and recipient of the James Beard Foundation Awards for excellence in the food and beverage industry. Throughout our history, we have received the following recognition from the Foundation.
2003  Best Chef Mid Atlantic Nominee
2004  Best Chef Mid Atlantic Nominee
2005  Best Chef Mid Atlantic Winner
2008  Best New Restaurant Nominee
2008  Outstanding Service Nominee
2009  Outstanding Service Nominee
2010  Outstanding Service Nominee
2011  Outstanding Restaurant Nominee
2012  Outstanding Restaurant Nominee
2013  Outstanding Service Nominee
2014  Outstanding Chef Nominee
2014  Outstanding Service Nominee
2015  Outstanding Chef Nominee
2016  Book Award Nominee - Mastering Pasta
2019  Outstanding Chef Nominee
Vetri Cucina Family
Marc Vetri
Marc Vetri is the chef/founder of Philadelphia's critically acclaimed Vetri Cucina. A Philadelphia native, Vetri founded the restaurant in 1998 with his business partner, Jeff Benjamin, to universal acclaim. Within two years of the restaurant's debut, he was named one of Food & Wine's "Best New Chefs" and received the Philadelphia Inquirer's highest restaurant rating, which the restaurant maintained during a re-review in 2018. In 2005, Marc was given the James Beard Award for "Best Chef Mid-Atlantic."
Following years of success at Vetri, Marc, along with Jeff Benjamin, opened Osteria, Amis, Pizzeria Vetri, Lo Spiedo and Alla Spina, all of which quickly won over the dining public. In his latest venture, Vetri has made the long-awaited move to Las Vegas, opening a second location of Vetri Cucina at the Palms Casino Resort.
In addition to his storied career in the kitchen, Marc is also the driving force behind the Vetri Community Partnership, a non-profit organization whose mission is to empower children and families through fresh food and education. He is also the author of four cookbooks, his latest being "Mastering Pizza," released in 2018.
Jeff Benjamin
After graduating from The University of Massachusetts Amherst, Jeff Benjamin met Marc Vetri in New York City while working in the food industry. When Marc decided to return to his native Philadelphia to open Vetri Cucina, he tapped Jeff to be his business partner and general manager—and the rest is history.
Today, Jeff serves as cofounder of Vetri Cucina, and has worked alongside Marc to open its second location in Las Vegas, at the Palms Casino Resort. In addition to being an integral component of the restaurant's day-to-day operations, Jeff is the cofounder and a board member of the Vetri Community Partnership. In 2015, he published his first book, Front of the House: Restaurant Manners, Misbehaviors & Secrets, a behind-the-scenes look at the details that go into an evening out. His next book, Praying for Extra Innings, arrives in 2018.
Jeff lives in Cherry Hill with his wife, Melissa, and their two daughters. When not working, he can be found rooting for his children's sports teams, as well as his beloved Cubs and 76ers.
Jacob Rozenberg
Chef de Cuisine

Jacob grew up in Newburgh, New York and his first cooking job was at the Olive Garden. He took the job because he needed money to buy a guitar. Jacob soon realized his love of cooking and switched his focus from music. He went to the CIA and graduated in 2009. He worked at various restaurants in the Hudson Valley before landing at Osteria in Philadelphia. He worked at Osteria for about a year before moving back to New York. He eventually came back to Philadelphia in 2012 where he opened Alla Spina. There he worked every station in the kitchen and moved to Vetri Cucina in 2015. Jacob has been at Vetri Cucina ever since. He started as a line cook and became CDC in 2020. He was an integral part of Vetri Cucina's many transitions during the pandemic. In his free time Jacob loves playing music, spending time with his dog and eating his favorite food, sandwiches.
Vetri Community Partnership
In 2008, Marc and Jeff founded Vetri Community Partnership to help kids establish the connection between healthy eating and healthy living. Today, the organization works with more than 20,000 kids and families each year to develop the critical life skill of cooking for all stages of their lives. By using the kitchen as a classroom, Vetri Community Partnership's programs build culinary skills, nutritional knowledge, and confidence through fun and engaging experiences.