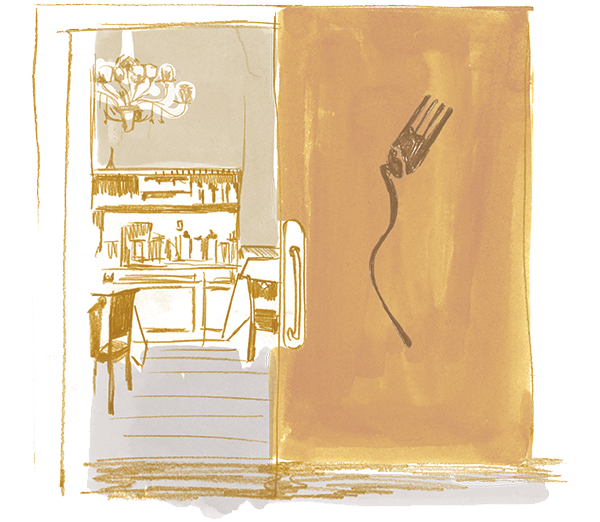 The Vetri Cucina Story
Vetri Cucina has the longstanding reputation as being one of the most respected and influential Italian restaurants in the country.
After years of working in the finest kitchens in Italy and the U.S., Chef Marc Vetri returned home to his native Philadelphia and took up residence in the intimate, historic townhouse that was once home to the lauded Le Bec-Fin. Together with his business partner, Jeff Benjamin, they opened Vetri Cucina's doors in September of 1998.
Over the past two decades the restaurant has continued to offer outstanding rustic fare, handcrafted pastas, innovative flavor combinations and artful presentations inspired by Italian cuisine. Throughout this time, Marc and Jeff have been honored to give back to the city through their work with the Vetri Community Partnership.
1999
Chef Vetri named one of the "Ten Best New Chefs" by Food & Wine Magazine
2005
Chef Vetri named "Best Chef: Mid-Atlantic" by the James Beard Awards
2006
Marc Vetri and Jeff Benjamin host the first Great Chefs Event
2007
Osteria opens
2008
Vetri Community Partnership established
2012
Alla Spina opens
2013
Pizzeria Vetri opens
2014
Vetri Cucina's private dining room opens
Bar Amis (formerly Lo Spiedo) opens
2017
Lunch service begins every Friday at Vetri Cucina
September 2018
Vetri Cucina celebrates its 20th anniversary
James Beard Foundation Awards
Vetri Cucina is honored to be included among our talented colleagues as a nominee and recipient of the James Beard Foundation Awards for excellence in the food and beverage industry. Throughout our history, we have received the following recognition from the Foundation.
Vetri Cucina
Outstanding Restaurant Semifinalist: 2010
Outstanding Restaurant Nominee: 2011, 2012
Service Nominee Semifinalist: 2011
Service Nominee: 2008, 2009, 2010, 2013
Chef Marc Vetri
Outstanding Chef Semifinalist: 2008, 2009, 2010, 2011, 2013, 2016
Outstanding Chef Nominee: 2011, 2012
Mid-Atlantic Chef Nominee: 2003, 2004
Mid-Atlantic Chef Winner: 2005
Mastering Pasta
Nominee:  2016
Vetri Cucina Family
Marc Vetri
A native Philadelphian, Marc Vetri was classically trained in Bergamo, Italy, and is known the world over for bringing a bold, contemporary sensibility to classic Italian cooking.
He is the chef and founder of Philadelphia's Vetri Family of Restaurants, which operates a collection of the country's most critically acclaimed Italian restaurants: Vetri Cucina, Osteria, Amis, Alla Spina, Bar Amis (formerly Lo Spiedo) and Pizzeria Vetri.
Marc is the author of Il Viaggio di Vetri, a collection of more than 125 of Vetri Cucina's most requested dishes; Rustic Italian Food, which was named one of the top cookbooks of 2011; and Mastering Pasta, a comprehensive guide to pasta, gnocchi and risotto. His latest, Mastering Pizza, hits shelves in 2018. In addition to his cookbooks, Marc's writing can be found on The Huffington Post, where he is a regular contributor.
Outside of his restaurants, Marc is deeply passionate about giving back to his hometown through the Vetri Community Partnership. Marc lives in Philadelphia with his wife, Megan, and their three children. He enjoys spending weekends cooking with his family, training in Brazilian jiu jitsu and playing his beloved guitars.
Jeff Benjamin
After graduating from The University of Massachusetts Amherst, Jeff Benjamin met Marc Vetri in New York City while working in the food industry. When Marc decided to return to his native Philadelphia to open Vetri Cucina, he tapped Jeff to be his business partner and general manager—and the rest is history.
Today, Jeff serves as cofounder of Vetri Cucina. In addition to being an integral component of the restaurant's day-to-day operations, Jeff is the cofounder and a board member of the Vetri Community Partnership. In 2015, he published his first book, Front of the House: Restaurant Manners, Misbehaviors & Secrets, a behind-the-scenes look at the details that go into an evening out. His next book, Praying for Extra Innings, arrives in 2018.
Jeff lives in Cherry Hill with his wife, Melissa, and their two daughters. When not working, he can be found rooting for his children's sports teams, as well as his beloved Cubs and 76ers.
Matt Buehler, Executive Chef
Matt Buehler began his career in the restaurant industry in eighth grade, when his mother encouraged him to take a job as a dishwasher. He would eventually go on to study at the French Culinary Institute in New York City and cook in some of Philadelphia's top kitchens. Today, Matt serves as Vetri Cucina's Executive Chef, translating his love for the freshest, finest ingredients into exciting, seasonal menus.
Off the clock, Matt enjoys spending time with his wife and two daughters. He also stills finds time to cook with mom, who joins us every year to teach a class on preserving summer produce.